My sensibilities are shaped by the spirituality, sensuality, and 'masti' of my Indian heritage, the realness and practicality of my life on the prairies, the fierce love I received from my soul-full parents, and from the expansive learning that has come from all my travels (literal and metaphoric), particularly my year spent living in southern France.
I have always been on a journey of creative expression. When I was young, I loved to write rhymes and poetry, invent elaborate stories for my dolls, make costumes, and act out skits and dances with my friends. I danced every year of my life, starting at age 3 with ballet, and grew into a classical Indian dancer. My mom used to joke that although she was born and raised in India, it was I, born and raised in Canada, who brought the richness of India into our home.
Giving myself permission to create has been the greatest challenge on my journey. On the side, as part of my recreation, I always made time for my dance and artistic endeavors. But I also denied myself from committing fully. In 2006, it was like I could not resist any longer. I wanted to make a documentary film. I needed to say something. And every day that I spent in a job that was 'ok' and safe, was another day I had wasted in achieving my full potential. The pain in staying outweighed the fear of leaving, and I quit my job.
Becoming a filmmaker has been an artform in itself. When I started, I remember being very unsure of what to tell people when they asked what I did for a living. I was uncomfortable telling people I was an artist or a filmmaker. I preferred producer or freelancer, words that seemed more credible. I was also very afraid of the steroetypes associated with being an artist - flaky, lazy, poor. However as my life as an artist began to unfold, I quickly realized that it would challenge me in ways I never before experienced. It has required initiative, strategy, courage, leadership, business and marketing savvy, project management, discipline, team work, and a great deal of fortitude. Now I feel if I must be labelled, as we all do in our world, then call me an artist!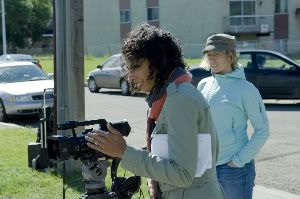 From the get-go, I refused to buy in to the widely accepted perception of the 'starving artist'. I work long hours, and put 110% effort and pride into every task. I value the time and skills that go into my artistic process. Because of the pride I take when working on projects I make sure I find ways to fund myself. In essence, I never allow myself or my family to starve. This drive to uncover resources has led to me raising over $5 million over the course of my career (first as a professional fundraiser in the non-profit sector, and now as a filmmaker).
My goal as a filmmaker has always been to make the world better. My films may not reach the masses, but they do reach many hearts.
Professional affiliations & memberships: EMMEDIA, Digital Alberta, AMPIA, CAPIC, Documentary Organization of Alberta, Calgary Society of Independent Filmmakers, Women in Film & Television Alberta
Directing a shot for Young Masters
In The Declaration of Independent Filmmaking (a must-read for any indie types), the Polish Brothers describe a filmmaker as:"A gambler, a magician, a manipulator (in all the best ways), a shrink, a faith-based-healer..."
I can attest, it's ALL TRUE!